Play R.C. Pro-Am NES Game Online !
R.C. Pro-Am Game Description
R.C. Pro-Am is a racing video game for Family game computer which is know NES . The game was released on 1988 . It was developed by rare and published by Nintendo.
R.C. Pro-Am Nes Game Menu Screen

This is how game is look like when it's start , and then it's showing menu to select the player and play .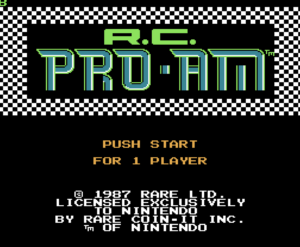 R.C. Pro-Am Actual game play image

Game start by showing the vehicles are ready on the track to start the race .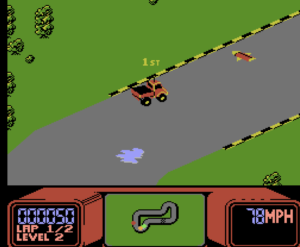 Gameplay use third person type of camera so the player able to see the vehicle racing around the track .
R.C. Pro-Am nes gameplay goal
The game provide very unique gameplay experience . The player will racing around the track using remote control car . Also the gameplay use third person type of camera and the player will have to collect parts and upgrade the vehicle as well as going around and collecting letters to spell out the words Nintendo and try to win the race .
R.C. Pro-Am Gameplay Controller
For iOS / Android devices the control buttons will appear automatically on the screen .
for computers this will be keywords inputs .
Directions is ← → ↑ ↓
enter ↵ for the Start
Shift – for the Select button
Z – for the B button
X – for the A button
C- for the Turbo B
S – for theTurbo A