Play Batman NES Game Online ! 
Batman NES Game Description
Get ready to fight crime as the Caped Crusader in Batman.  Batman Nes Game is a classic action-adventure game for the Nintendo Entertainment System (NES). Based on the popular DC Comics superhero, this game follows the story of Batman as he battles against the Joker and his henchmen to save Gotham City.
In this game, players will use Batman's skills and gadgets to defeat enemies, solve puzzles, and explore a variety of environments. With challenging gameplay and a memorable soundtrack, Batman is a must-play for fans of the character and retro gaming alike.
Batman Nes Game Actual Gameplay Image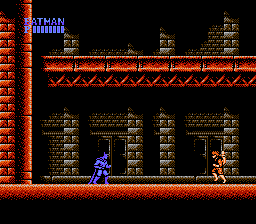 Batman Nes Game Controller
For iOS / Android devices the control buttons will appear automatically on the screen .
for computers this will be keywords inputs .
Directions is ← → ↑ ↓
enter ↵ for the Start
Shift – for the Select button
Z – for the B button
X – for the A button
C- for the Turbo B
S – for theTurbo A