Play Load Runner NES Game Online !
Game Description
Lode Runner is a 2D puzzle-platform game, developed by Douglas E. Smith and published by Broderbund in 1983 .
Lode Runner Main Menu Game Play Images
When you start Game it will be the Main Menu of the game .
Load Runner Nes Actual Game play Images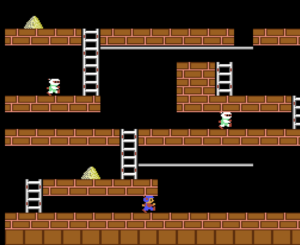 The player will need to collect all the gold while avoiding guards enemies  who try to catch the player. After collecting all the gold, The Payer will reach the next level of the game .