Play Super Kung Fu NES Game Online !
Kung Fu was a port of Kung-Fu Master  . The game was developed by Irem for the Nintendo Entertainment System which is known NES. As one of the sixteen launch titles for the system, Kung Fu it was also one of the first beat 'em up games. It was released on October 18, 1985 .
Kung Fu Nes Game Menu Screen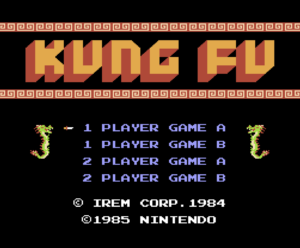 Kung Fu Nes Game Actual game play image
Kung Fu Nes Game 
Story
One day, a kung-fu master, Thomas, and his girlfriend, Silvia, are attacked by a gang of mysteriously men .
When the game is start , the character stars Thomas, will fight enemies in front of him , while he fight more people and enemies will come from the back and he will have to fight all of them alone . Fighting through six stages to save his kidnapped girlfriend, Silvia .
Gameplay Controller
For iOS / Android devices the control buttons will appear automatically on the screen .
for computers this will be keywords inputs .
← → ↑ ↓Directions
enter ↵Start
Shift –Select
Z –B
X –A
C- Turbo B
S –Turbo A