Play Adventure Island Classic nes NES Game Online !
Game Description
Adventure Island Classic is a side-scrolling platform game produced by Hudson Soft that was released in Japan for the Famicom on September 12, 1986. Adventure Island Classic released in North America for the Nintendo Entertainment System in 1987 and in the PAL region in 1992.
It's Adventure game . The player will run towards and will face the enemies and challenges . The PlayerCharacter " Master Higgins " loses a life whenever he touches an enemy
Game Play Images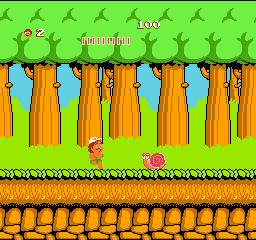 Game Controller
For Mobile or tablet devices like iPhone or android the buttons will appear automatically on the screen .
For computers these buttons on keyboard will be for game controller
← → ↑ ↓Directions
enter ↵Start
Shift –Select
Z –B
X –A
C- Turbo B
S –Turbo A